Box Elder County Golden Spike Sesquicentennial Events


Golden Spike Sesquicentennial Opening Ceremonies
To open the week of Golden Spike Sesquicentennial celebrations, Box Elder County is hosting the official Opening Ceremonies on May 4, complete with a horse and wagon parade with entries from each of Utah's 29 counties followed by a fun evening of song and dance at a good old-fashioned hoedown.
Parade begins at 1:00 pm in Brigham City on Main Street starting a 200 North and ending at 400 South. Hoedown will be at 7:00 pm at the Box Elder County Fairgrounds Event Center in Tremonton. The Fairgrounds are located at 320 North 1000 West.
Parade applications can be found here

Golden Spike Sesquicentennial Hoedown
To open a week of statewide Golden Spike Sesquicentennial events, join Box Elder County as we host the official opening ceremonies on May 4. Following the opening ceremonies parade, enjoy an authentic hoedown. Live music from a Box Elder County favorite, Rough Stock, a soda bar, and plenty of local treats make for big fun! The Fairgrounds are located at 320 North 1000 West.
Want to know what is happening around Utah? Visit Spike150.org for statewide events!



Brigham City Museum
The Spike at 150: Myths and Realities and Zhi Lin: Tracing Chinese Workers' Footsteps to Promontory Summit
The Brigham City Museum of Art & History is pleased to present a pair of exhibitions that will celebrate the completion of the Transcontinental Railroad. The e
xhibitions will open Saturday, March 23, 2019, and will be open through June 15, 2019.
The Spike at 150: Myths and Realities will explore the history of the building of the railroad, the legends around it, and how history is made. Is there really a mass grave of Chinese workers in the Brigham City Cemetery? Did competing workers blow each other up as they approached Promontory? What was Utah's role in the work?
Zhi Lin: Tracing Chinese Workers' Footsteps to Promontory Summit features sketches and paintings by an artist who has spent more than a decade attempting to trace the history of Chinese workers in the western United States, with a special focus on railroad workers. Zhi's breathtaking works of art for this exhibition include both representational and abstract pieces that explore the lost experience of those workers.
The museum is located at 24 North 300 West. Hours of operation are 10 a.m. to 5 p.m. Tuesday through Friday and 1 to 5 p.m. on Saturday.

Bear River Valley Museum Exhibit
A fascinating collection of artifacts related to the Golden Spike National Historic Site. Don't miss the replica Promontory Summit!
The display runs from May 1 – December 31. The Bear River Valley Museum is open daily except weekends for 2:00 - 5:00. Our displays are a work in progress. Come today and see tomorrow will be more.
National Stagecoach conference
This annual 4-day conference will be held in Brigham City, Utah May 8-11, 2019. Travel wagon trails throughout Northern Utah, visit key points of history and enjoy the culture of Box Elder County. More information can be found at www.stagecoachfreightwagon.org
Corinne City Sesquicentennial Celebration
Corinne City is celebrating its 150-year anniversary in conjunction with the Golden Spike 150 year anniversary. Corinne City is having a meal with brief vignette and tour of the
mason building. The mason building has many historical items from Utah and Corinne history. Dutch oven dinner is $10, entertainment is free. May 9-10, 5:00 pm at the Mason building and city park. Tickets are available at the city office.



Corinne Pageant
"Corinne, The Gentile City," a family-friendly comedy, will dramatize the history of the railroad town, Corinne, Utah. It will be held Thursday, Friday and Sa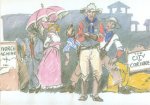 turday, May 9, 10th and 11th on an outdoor stage located on Highway 83 South and 3900 West in Corinne, UT. Concessions with burgers and homemade root beer and a pre-show with live music will begin at 6:30 p.m. Peach cobbler and ice cream will be for sale at intermission. There will also be local crafts and an old-time photo booth. The show will begin at 8pm (dusk). Admission is $4 if you bring your own lawn chairs and blankets, $5 if you need a chair. Corinne has a unique story--unlike most other Utah towns that were settled by Mormons, Corinne was settled by land speculators and railroad laborers. In its prime, it had over 1500 residents, a hotel, 2 dance halls, a mercantile, a cigar factory, a meatpacking plant, several banks, 28 saloons, and even a divorce machine! Corinne was dubbed Utah's "Gentile Capitol." This light-hearted pageant will highlight the historical events of Corinne's past.


Wedding of the Rails Quilt Show
The Wedding of the Rails Quilt Show, sponsored by USU Brigham City and the Quilt Guilds of Box Elder County, will be held May 2-4 at the USU campus, 989 South Main
Street in Brigham City. The show will feature commemorative quilts of the driving of the Golden Spike, the history of the area and personal connections to the Spike. We are also seeking wedding quilts and historic family quilts of any era. We will also have an original quilt on the frames at the show for visitors to add their stiches and be a part of the next 150 years of history.
To enter a quilt, contact Marlene Rapp for an application and registration form at 435-723-6249. This is a non-juried show, with prizes awarded by audience vote.
The opening reception will be held in conjunction with the USU Lecture Series on May 2 from 6-7 pm. Dr. F. Ross Peterson will be discussing the Joining of the Rails and What it Meant for America at 7 pm. The quilt show will end on Saturday May 4 at noon.


The Crossing – Box Elder's Golden Treasure
Join us at the amazing Old Barn Theatre in Collingston for a celebration of Northern Utah through two centuries. Vignettes of the Bear River Crossing to Brigham City. The performance will highlight the history of the railroad, the crossing at Hampton Ford, Native American life, stagecoach travel, and the Bushnell military hospital. The performances will be on May 7-8. Contact Laura Selman at fselman@citlink.net or 435-452-1674 for tickets
Utah Opera Spike 150 10 Minute Opera Premier
In celebration of the 150th anniversary of the Transcontinental Railroad, Utah Opera is pleased to announce four projects selected for its Commissioned Opera project for 10-minute operas on themes related to the Golden Spike. The operas will premiere at the Fine Arts Center in Brigham City on Monday, May 20, starting at 7:30 pm. Information available at https://utahopera.org/events.
"No Ladies in the Lady's Book," by composer Lisa Despain and librettist Rachel Peters, is a short comic opera about the women whose contributions to the success of the transcontinental railroad are largely unsung.
"The Stone, The Tree and the Bird," by composer Jacob Lee and librettist Christine McDonough, centers around a campfire conversation between three transcontinental rail workers, the night before the ceremony in Promontory, Utah. They dream and plan what they will do, now that the historic job is done.
"Burial," by composer Tony Solitro and Librettist Paisley Rekdal, features a confrontation between a town mayor and a café owner, about how to appropriately bury and honor Chinese men who helped build the railroad. The opera explores theme of belonging and identity: are the dead Chinese to be treated as Asian aliens or American workers?
"Completing the Picture," by composer Michael Ching and librettist/research/choreographer Victoria Panella Bourns, fills in the larger picture of human involvement on the completion of the Transcontinental Railroad. Many men posed in the historic photograph, but no Chinese are in the picture. The opera will include the "Strange Parade" Westerners reported when the Chinese arrived, as well as the difficulty of their labor on the railroad.


Fine Arts Center Art-Tell
This is a tri county art completion and exhibit highlighting our train heritage and the world of innovation. Each entry has a short story by the artist tying their
work to their interpretation of this year's theme. Includes a variety of visual mediums and several great professional artists. Free exhibit will be open in the lower level of the Fine Arts Center 1pm to 7:30 pm Thursday through Saturday April 18- 20. Located at 58 South 100 West in Brigham City.
Fine Arts Center Gandy Dancers Production
Saturday, and Monday 7:30 pm June 6-10, 2019 with 2 pm Matinee Sat June 8. Held in a delightful intimate theater at the Fine Arts Center in beautiful, quaint Brigham City. This fun and popular historical musical written locally for the Golden Spike Centennial is being resurrected for the 150th year celebration. Relive the life and challenges of folks in Brigham City as they experience the changes brought on by the nearby drive to complete the first intercontinental railroad. (Find about saloons, Indians, competing railroad crews, and pioneer adventures that made waves in a supposedly quiet Mormon community.) Tickets $6 will go on sale the middle of May at www.bcfineartscenter.org
Echoes of Hammers and Spikes Commemorative Legacy Book and CD
Utah Pioneer Heritage Arts is developing a Legacy Series Special Edition 9" x 12" art book with accompanying CD. It will be like a stage musical where the stage is in the lap of the reader! This special commemorative book and CD of 20 original songs will be available for purchase soon. Contact Clive Romney, Executive Director, Utah Pioneer Heritage Arts at 801-706-1997 or clive@upharts.org.

Historic Brigham City Depot Display
2019 celebrates the 150th anniversary of the Transcontinental Railroad. See the small replica engines, Jupiter and 119 that sit on wooden trestles. Artifacts from the old rail bed, memorabilia from the 100th anniversary celebration and items from the announcement of Utah's 2008 quarter design.
The Historic Brigham City Depot is open 1-5 pm Monday, Thursday, Friday and Saturday.
Mark Hopkins Railroad Display
Wagonland Adventure is proud to present Mark Hopkin's Double C-Spring Buggy. Hopkins, a merchant and railroad developer, found fortune selling supplies to miners looking
for gold in California. Hopkins was one of four principal investors who agreed to fund Theodore D. Judah's idea of building a transcontinental railway. They formed the Central Pacific Railroad along with Leland Stanford, Charles Crocker, and Collis Huntington in 1861.
In addition to the buggy, a railroad dumpcart, used to haul fill material to build the railroad grade, will also be on display along with all the other outstanding horse-down vehicles in the Wagonland Adventure collection.
Open house will take place May 6, from 4:00 pm at Wagonland Adventure, 8790 W Hwy 102, Tremonton, UT 84337